Mark Farner, www.markfarner.com, Grand Funk Railroad with a Veleno Guitar. This photo was found while surfing into the "More pictures of Grand Funk Railroad" web page at http://w3.one.net/~wap/GFR_WEB/gfrMorePictures.html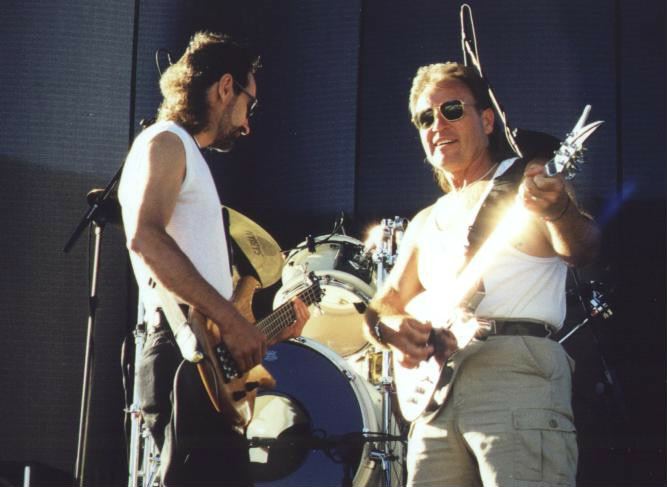 Below shows Eric Erlandson of "Hole", www.holemusic.com, with his three Veleno guitars surrounded by all of his other valuable guitars. Eric is very perceptive to have three of them, as they are becoming priceless. Eric states - Cool metal guitars from the 70s. I've been using them on everything since "live through this".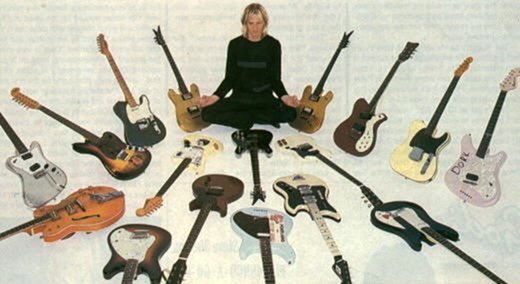 From "GUITAR WORLD" January 1999
It was Kurt Cobain who turned Erlandson on to what has become one of the Hole man's main guitars: an obscure Seventies model called Veleno, fabricated entirely of metal. "Kurt had always heard that [Nirvana producer] Steve Albini played this metal guitar and that's how he got all that sustain high end on the early Big Black records," says Erlandson. "So Kurt told me about this Veleno thing, and I said 'I'm going to look into it.' I found this shop in Tacoma, Washington, that had one. It was when Hole was recording Live Through This. I loved it. Pure sustain. I started looking around for more."

Today, Erlandson owns three Velenos: one chrome-finish model with a Seymour Duncan pickup and two gold-finish ones with Seventies humbuckers. The chrome and one of the golds used to belong to Mick Mars of Mötley Crüe. "I bought them at this shop in the [San Fernando] Valley [an L.A. suburb]," says Eric. "Turns out Mick was dumping them because he had a big divorce."
Below shows the Veleno Ankh guitar held by Space Age Guitarist Todd Rundgren. The Ankh is probably the most ancient of symbols mankind has. It is the Egyptian symbol meaning "The perpetuation of Life" as defined in the dictionary.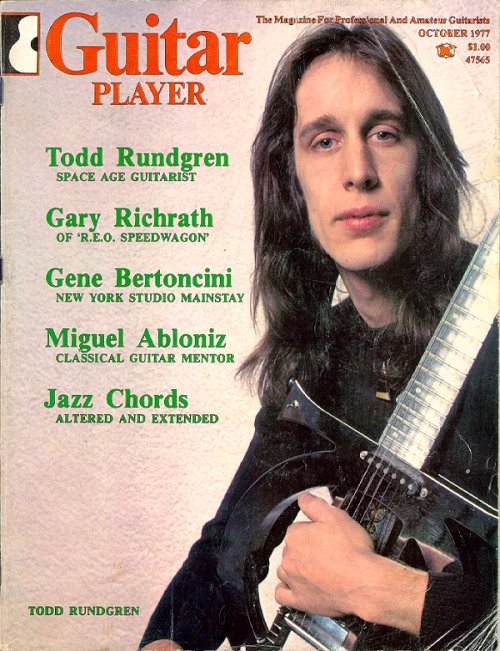 Below, a blue anodized Veleno Original
All Veleno guitar owners share their special interest with a gorgeous blond, Dolly Parton. Below shows a Veleno guitar on display in her "Rags to Riches Museum" at Dollywood, Pigeon Forge, Tennessee. Please note her logo, the butterfly, she personalized her Veleno guitar with, and visit www.dollywood.com.
Click Here for Gallery of Stars section 2
Click Here for Gallery of Stars section 3
Click Here to go Back to main Guitar page
Click Here to return to home page