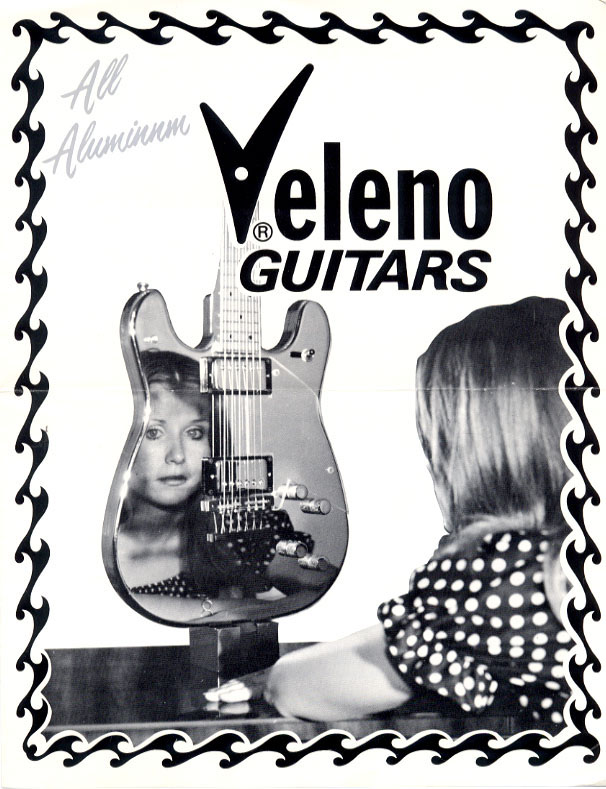 Brochure cover Veleno® used in promoting his guitars. Note the model's reflection in the mirror-like chrome finish.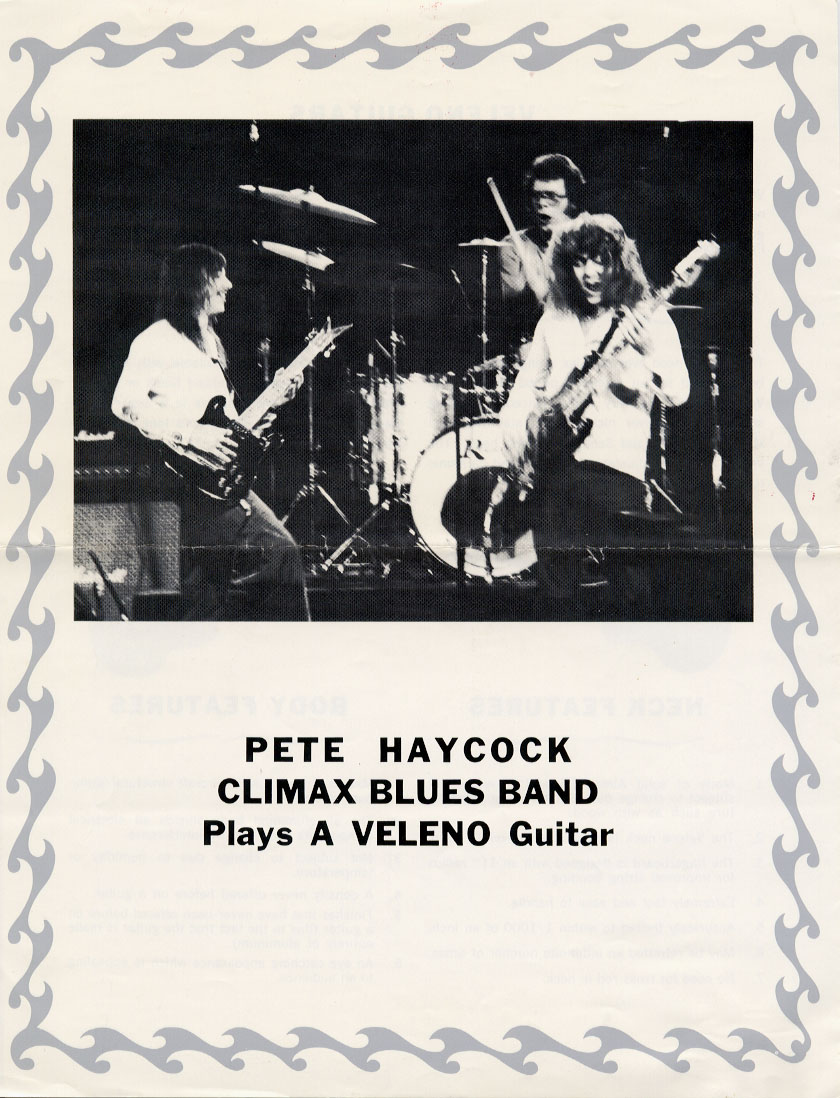 Back of brochure shows Pete Haycock of the "Climax Blues Band" Playing a "Veleno®".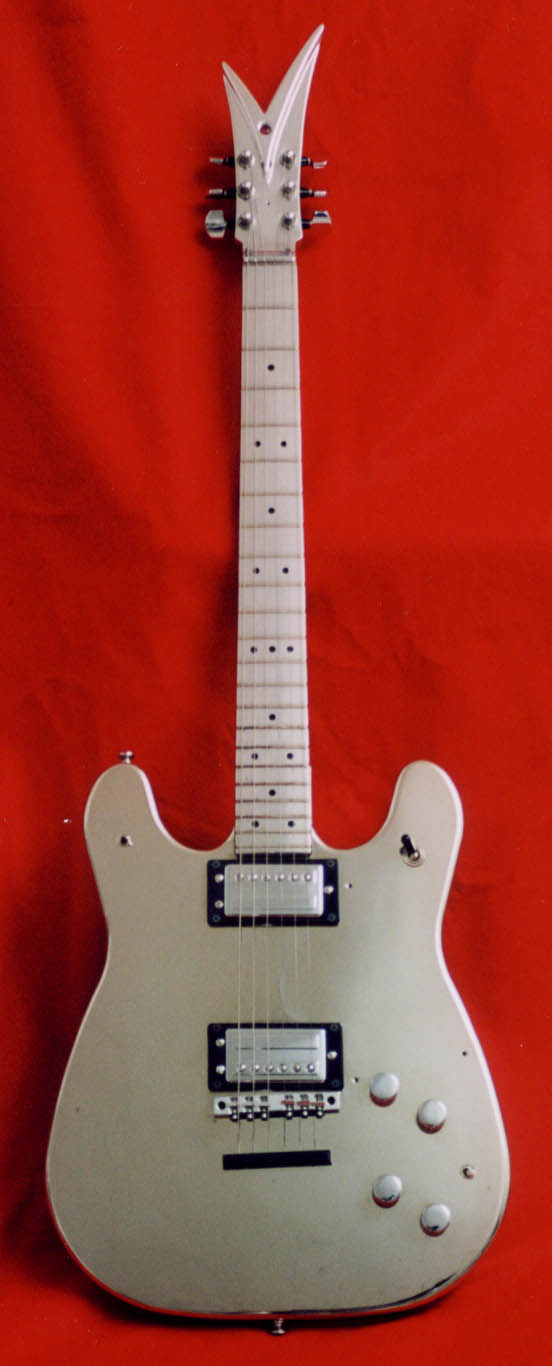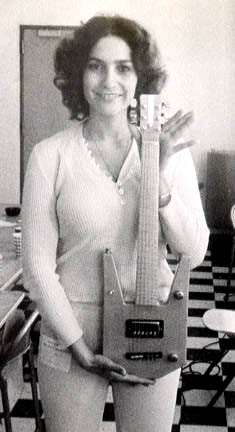 Veleno® Traveler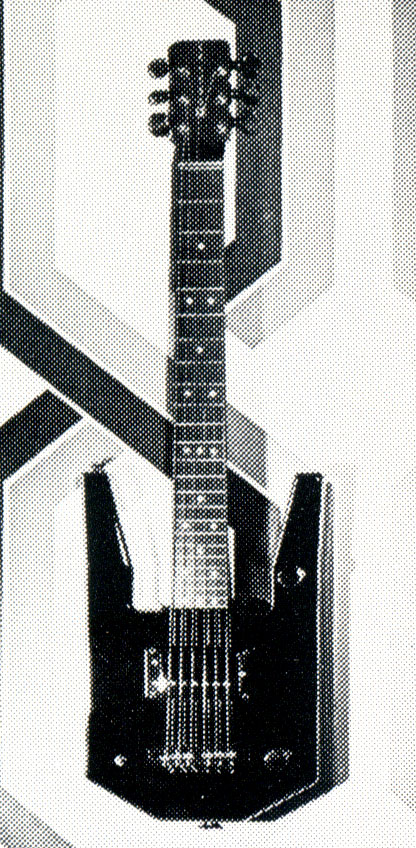 The Veleno® Ankh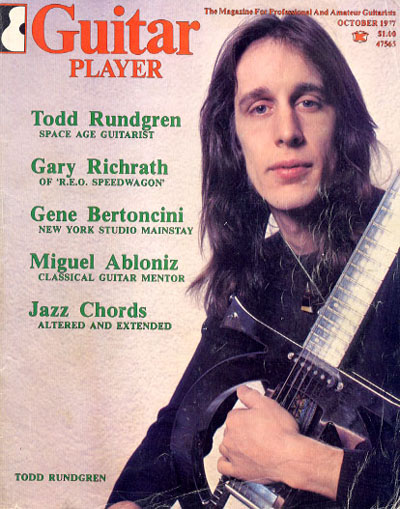 The cover of October 1977 issue of Guitar Player showing a Veleno® Ankh guitar and Todd Rundgren, Space Age Guitarist.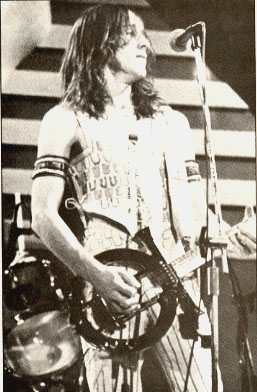 Photo showing Todd Rundgren playing the Veleno® Ankh guitar, ancient Egyptian symbol of "The Perpetuation of Life" in that issue of Guitar Player.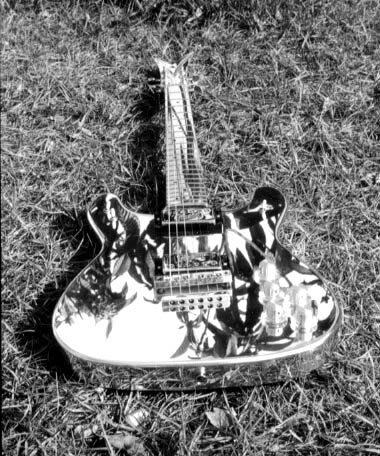 Reflections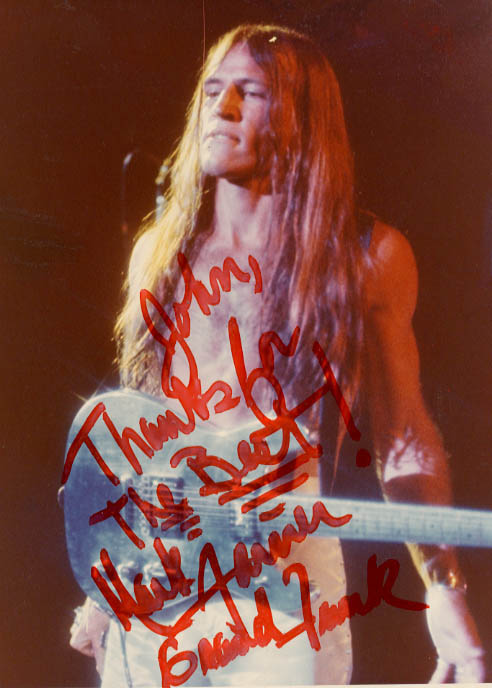 Mark Farner, 1974
"Grand Funk Railroad"

Mark's guitar before he acquired it
.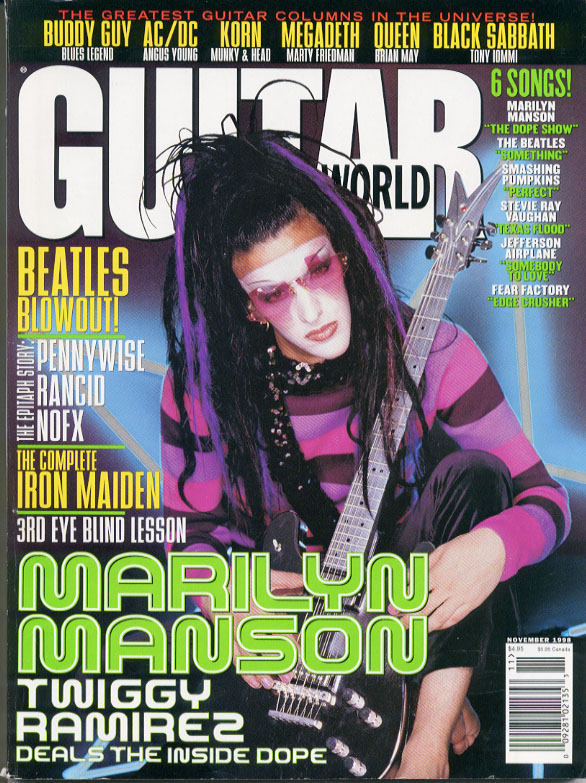 Cover of November 1998 issue of Guitar World magazine showing a "Veleno®" guitar with Marilyn Manson. The guitar is stated as being a gift from Johnny Depp.
Have you ever been in a group, such as at a party, lost for words, want to join in, but don't know what to say? Try this "Are there any guitarists here?" There's at least one in every crowd! Ask him, or her:
"Question - Which production-made guitar holds the world record for the highest percentage of guitars made that were owned by top, well known, performers or artists?" "Answer - the 'Veleno®' guitar."
For a production guitar, the Veleno® guitar, by far, holds the record for the highest percentage of guitars owned by top performers of the total amount of guitars produced. And, unlike other guitar manufacturers, all Veleno® guitars with the exception of one were sold at the regular price and none were ever given to anyone for promotional purposes. However, John did give one guitar as a gift to a very special person who had assisted him to promote his own guitars for four and a half years without asking for anything in return. Two and a half months after John experienced a stroke he gave this special person one of his first Veleno® Travelers as a token of his appreciation for all the help she had given him. She was not a musician nor a performer. Therefore, all the Veleno® purchasers are true Veleno® guitar fans.
ARTISTS WHO OWN OR HAS OWNED A VELENO® GUITAR
Artists known to have owned "Veleno®" all aluminum guitars include Mark Bolan of "T-Rex"; Eric Clapton; Greg Allman, Allman Brother's Band; Lou Reed; Johnny Winter; Ace Frehley of "KISS"; Todd Rundgren; Dolly Parton,; Sonny Bonno; Dan Ferguson, former personal guitarist for the Sonny and Cher shows (who claimed it was incredibly the best studio guitar he had ever used); Steve Albini of "Shellac" and producer of "Nirvana"; Pete Haycock of the "Climax Blues Band" who owned three Veleno®'s; Ray Monette of "Rare Earth"; Mark Farner of "Grand Funk Railroad, who owned three Veleno guitars; Ronnie Montrose of "Montrose" and "The Edgar Winters Band"; Lonesome Dave Peverett of "Foghat"; Jeff Lynne of "Electric Light Orchestra"; Mick Mars of "Motley Crue"; Terry Blankenship of "Daemon"; Austrailian punk aesthetic Ed Kueper "The Saints"; John Stone of "Chocolate & Vanilla"; Keith Levene of The Clash, and known for his outstanding guitar work in "PIL"; Robert Bond of "Rise"; Mark Klyne of "Loveday"; Robbie Krieger of "The Doors"; David Black of "Seduce"; Frank DeTulio of "Depot"; Mario DeMurier of "The James Gang"; John Olofson of "Babel"; David Surkamp of "Pavlov's Dog"; Ted Smida of "Out of Control; David Robinson of "The Cars", Veleno® guitar shown on their "Panorama" album; Johnny Depp; Frank Hannon of "Tesla"; Twiggy Rameriez of "Marilyn Manson"; Eric Erlandson of "Hole" who owns three Veleno®s; and others not known at this time by Veleno. If any names are spelled incorrectly, or if you know of any names to add to this list please e-mail the information.
It has been said that the Veleno® aluminum guitar's rating amongst electric guitars is the same that Stradivarius is for violins. In the field of heavy metal guitars it is truly a "heavy metal" guitar in more ways than one.
There are two types of "Veleno®" guitars: "The Veleno® Original" and "The Veleno® Traveler".
"The VELENO® ORIGINAL"
The Veleno® Original all aluminum guitar is a full size guitar weighing approximately 8 1/4 lbs., bearing density in mind. The Original has separate volume and tone controls and an out of phase switch. There is also a high - low tone switch to change the sound from bright to mellow, primarily for lead/rhythm switching without changing volume and tone controls . The bass and treble pickups were humbuckers but could be changed to single coil. As a mark of distinction, a corundum ruby was inserted into the distinctive "V" design of the headstock. There were about 195 "Original Veleno®" guitars made.
"The VELENO® TRAVELER"
This is an all aluminum guitar with many purposes. It has a total length of 27 1/4" and width of 8 1/2". The Traveler has a density and strength that is unequaled by any guitar of its size. It is tuned to "G" open first string, and has 24 frets. Being so compact, this instrument was designed so that artists could make good use of their travel time when composing new songs and melodies. A speed can be obtained on the Traveler unequaled to other guitars, including up to a full octave in string bending. The Traveler is a very powerful professional guitar, by far a truly fine instrument in a class by itself. Although fabricated in a production method only about 10 Travelers have been built to date.
THE VELENO® ANKH
After the nearly 200 production run of guitars Veleno had two strokes which left him totally paralyzed for a short time. John was forced by his health condition to slow from his high energy guitar making in 1976. He pulled through quite well and labored on. He then made three two ankh shaped guitars, and a bass, designed and made for the musical wizard Todd Rundgren.
Until February 2001John Veleno was not aware that Todd Rundgren's Veleno® Ankh guitars had been destroyed in a warehouse fire in 1985, 16 years earlier. Veleno learned of this shocking information this through a writer for The Weekly Planet that featured the Veleno® Guitar in their February 15 issue. Veleno felt grief and sadness upon hearing the news of the destruction of his last guitar creations. He later made an Ankh guitar for himself with the traditional "V" headstock.
"Veleno®" guitars are made entirely of Aluminum, and there was nothing stamped, bent, or welded in the construction of the neck and body to lessen the strength and fine quality.
The Veleno® neck was guaranteed never to warp in normal temperature conditions, and not in extreme temperature conditions, such as over 200 degrees.

The finger board was designed with an 11" radius for ease of playing and improved string bending, thus decreasing fret buzzing.

Accurately fretted to within 1/1000 of an inch, and could be re-fretted an indefinite number of times.

No need for truss rod in neck, as it was designed having the perfect curve from head to heal resulting in extreme ease and comfort of playing.
The body features were:
Machined from two solid aluminum billets of aircraft structural specifications, which weighed 17 pounds at the start and ended up at approximately 2 1/2 pounds.

The all aluminum body shields all electrical components from outside electrical and electronic interference.

The electrical/electronic assembly is one complete harness, easily accessible in seconds for repair or changes if needed.

Finishes that had never been offered on a guitar before, due to the simple fact that the guitar was made totally of aluminum. They were available in real gold plating, chrome plating, and various color anodized finishes or a super tough gray/black hardcoat finish.

The Veleno® guitars have an eye catching appearance, appealing to audiences, without having to adopt a gaudy neck or body design. The Veleno® body design has a clean and simple elegantly balanced distinguished symmetrical appearance.
Books to check out
1) Vintage Guitar Guitar Stories Volume 2 by Michael Wright. The last article in the book is very informative about the Veleno® Guitars.
2) The Ultimate Guitar Book by Tony Bacon
3) ELECTRIC GUITARS - The Illustrated Encyclopedia by Tony Bacon
--------------------------------------------------------------------
A PIONEER
John Veleno, a/k/a Veleno, pioneered the field of aluminum guitars and was known to be the first, and highly successful, inventor and maker of an all aluminum guitar. During the late 50s Veleno had played in a few local bands and in the early 60s taught guitar for three music stores, and offered instruction at home. When he started making the aluminum guitars Veleno was a member of The Society of Tool and Manufacturing engineers. He was directly involved in manufacturing components for the first manned spacecrafts, and the LEM (the lunar excursion module). Veleno also engineered manufacturing methods for producing, in high volume, air, space, and computer components. Veleno's combination of talents, knowledge, understanding, expertise and ambition were the primary ingredients necessary for the birth of this new winning aluminum guitar. His ideas for this great undertaking were conceived around 1966. Veleno's primary goal was to build a guitar solely for himself that would be incredibly easy to play electric guitar with great sound. Appearance was not a primary factor but was secondary. But being made of aluminum, Veleno was able to offer different than usual guitar finishes and a guitar that looked strikingly different as well. Two goals were reached and accomplished. His Veleno® Original fast became known to be one of the finest accurate, extremely easy to play, great sounding guitars.
Click on the link below to view Hardrock Veleno® Guitar pins
Hard Rock Cafe Veleno® Guitar pins
Boston Museum of Fine Arts
Photo below is from The Boston Museum of Fine Arts showing a Veleno® guitar in an exhibit with 110 rare guitars called "Dangerous Curves: The Art of the Guitar" Exhibit ended February 25, 2001.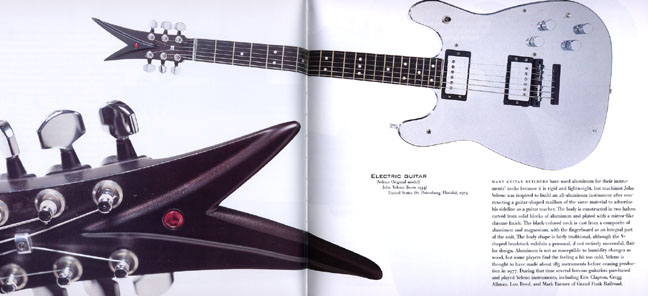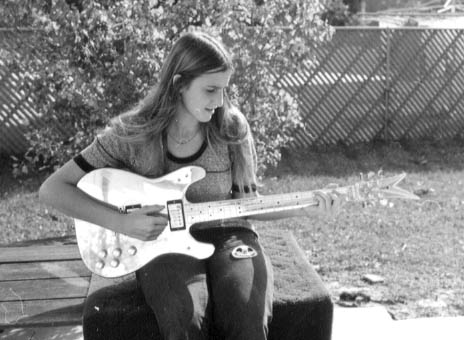 John's daughter Carla playing a Veleno® guitar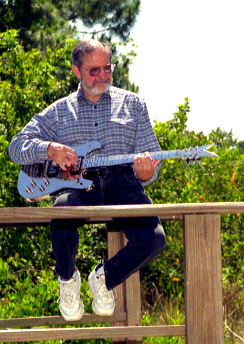 Veleno and his aluminum guitar
Gallery of Stars, section 1
(takes a while to load)
Gallery of Stars, section 2
(takes quite a while to load)
Gallery of Stars, section 3
(takes a while to load)
Dedication to vintage Veleno® guitars